Eagle Society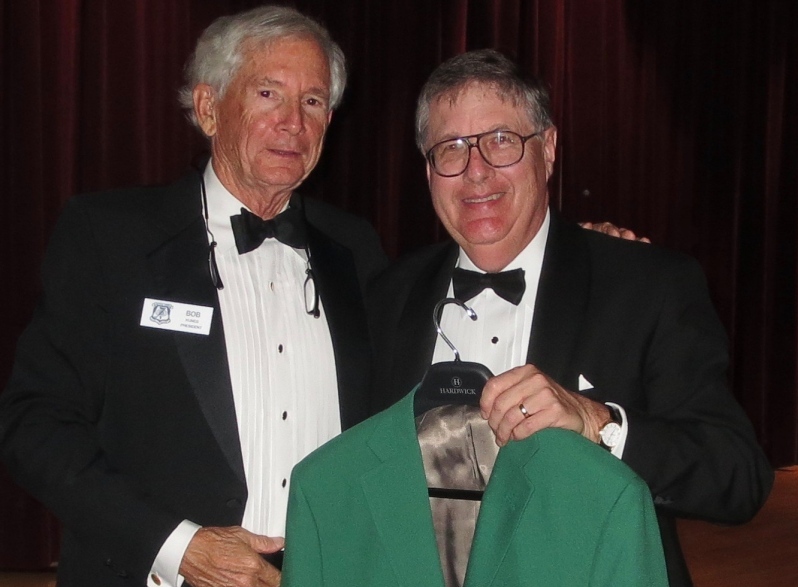 Bill Urquhart (R), 58th Eagle Society member, with
2018 President Bob Kunes,
The well-being of every voluntary organization depends upon the active involvement of individual members.
In 1994 the Eagle Society was formed to recognize Southern Seniors who have excelled as sponsors. Eagle Society membership is earned by sponsoring at least twelve new members.
A distinctive Augusta Green jacket with special crest is awarded to the new Society member at the first tournament attended following sponsorship of his twelfth member. Eagle Society members are invited to the newcomer cocktail reception at each tournament.
The respect and gratitude of the entire membership goes to the following who have demonstrated their commitment to our senior golf organization.
1995 Ed Ingle
1995 Jack Koehler
1995 Tom Ruffin
1996 Bill Reed
1996 Dyke Peebles
1997 Jake Schrives
1997 Henry Farmer
1998 Ed Furner
1999 George Gilbert
1999 Bill Merritt
1999 Troy Hutchinson
1999 Bob Ferrel
1999 Pres Millen
1999 Ferd Lawson
2000 Bill Elston
2000 Charles Gilreath
2000 Harald Hansen
2000 Bill Stevens
2000 Ham Stockton
2001 Joe Gundermann
2001 Jim Stockslager
2001 Hubert Taylor
2001 Bernie Balas
2002 Ned Olds
2002 Joe Kack
2002 Bill Edison
2003 Bob Beale
2003 Ed Carter
2003 Tom McAboy
2004 Bob Bridell
2004 Alan Drennen
2004 Cliff Perry
2005 Dave Rodger
2005 Tom Metzgar
2006 Jerry Dempsey
2006 Joe Dean
2006 Al Cogbill
2006 Russ Demarest
2006 Norton Montague
2007 Nick Whitridge
2007 Jerry Lancaster
2007 Adrian McManus
2007 Bill Rendleman
2007 John Sterchi
2007 Bobby Fowler
2008 Gary Kotva
2008 George Goosmann
2010 Jack Harris
2013 George Skelton
2014 Bob Gregory
2015 Don Herring
2016 Rick Priory
2017 Tommy Oates
2017 Gordon Jones
2017 Ron Soldo
2018 Bob Kunes
2018 Bill Urquhart
2019 Ray Killian
2019 Jack Helms
2020 Lynn McPheeters
2021 Bill Chase
2021 John Green
2021 Paul Gaines
2021 George McInnis
2022 Bill Akin